Washing Machine Valves Service
Washing Machine Valves Service At Your Doorstep
If you have a plumbing emergency or want to do plumbing maintenance, you should know about shutting down the water supply. It is crucial for a successful outcome.
At the core of Big Apple Plumbing washing machine valves service is the belief in extending the lifespan and preventing future issues of your appliance through complete inspection. Not only do we repair any faulty valves with brand-new ones, but we also identify potential issues before they turn into serious ones. Our technicians come prepared with cutting-edge tools to provide on-the-spot service and reduce repeat visits. So, get the seamless service to make your washing machine work exceptionally again.
With fast response times and competitive rates, we pride ourselves on offering reliable, professional services in the industry. Book an appointment today with us, and let us make all your washing machine problems disappear!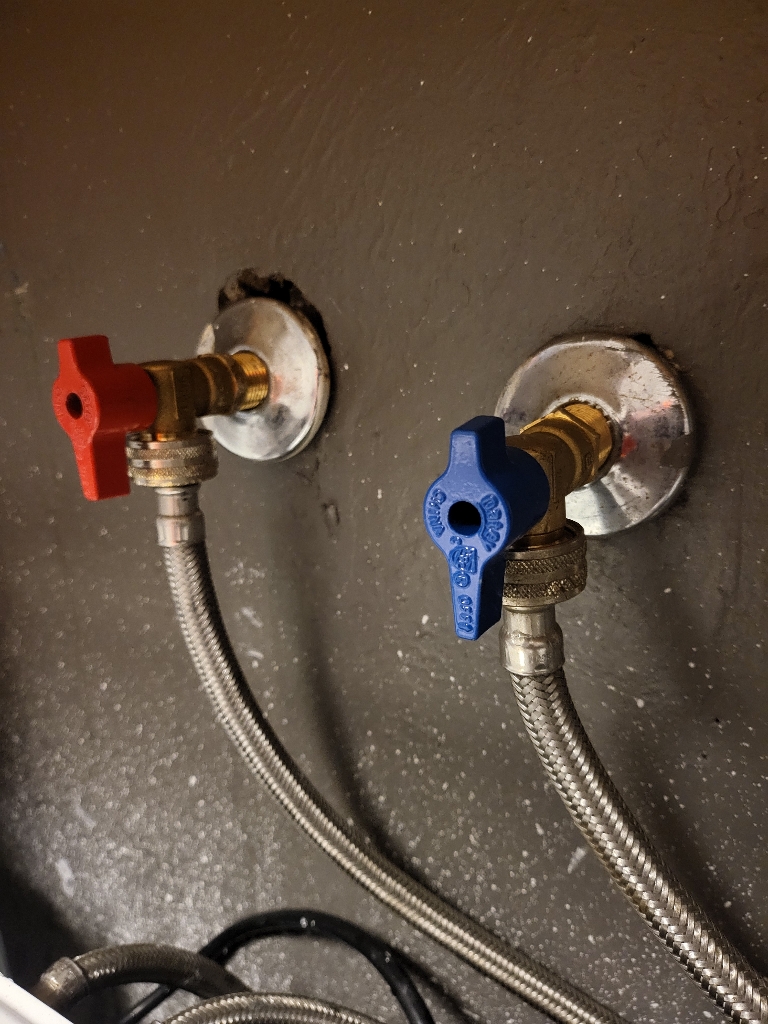 Main Reasons That Washing Machines Won't Stop Filling Water
There can be numerous reasons for a washing machine to fill with water continuously. The most frequent issue is either its water level switch, which doesn't signal it to stop filling, or its inlet valve. It leads to the failure to close and let air into the pressure chamber, leading to inaccurate readings for its water levels. Furthermore, improper installation or settings could also be the reason.
Signs Your Washing Machine Needs Attention
As with any home appliance, washing machines have indicators that need attention. Noise is one such indicator. If your machine begins making unusual sounds like banging, grinding, or clicking, it could signal an issue. Delayed or irregular cycles indicate an issue; your machine should adhere to its estimated cycle times. Water leaks around your machine could also signal trouble. These can be as simple as loose hoses to larger issues like defective pumps. Furthermore, clothes must be washed out more cleanly or too wet to indicate malfunctioning parts in your machine. It shows that professional servicing is required to address these early and could save costs down the line by avoiding repairs altogether.
Washing Machine Valve Repair and Maintenance
Maintaining and repairing washing machine valves regularly and on schedule is vital for optimal appliance performance. Faulty valves can leak, leading to costly water damage and extra expenses. Therefore, it is wise to inspect them periodically for wear, rust, or leakage and tighten any connections as soon as symptoms arise. Remember that preventive care will extend its life!
Tips to Maintain Washing Machine:
Many times the tips do not work out! When such a situation occurs to you, try to get professional help. At Big Apple Plumbing, we are experts at providing the best washing machine valves service for your washing equipment. Some services you can get are:
If you have tried DIY and many tips but did not provide the desired result, you need professional help! Big Apple Plumbing is a professional washing machine valve service provider. Call us and get a quick response.
If you've tried these maintenance tips and still need water main shutoff valve repair services, please call Big Apple Plumbing at   
(720) 900-1003
 for plumbing repair in Westminster.
Washing Machine Valves Service
"Our water heater dropped dead right in the midst of COVID. I spoke to 2 other companies and then spoke w Jason at Big Apple. He was not only able to guide me through my options, but was able to commit on the time and do it promptly. Disraeli was our expert. He was prompt, professional, and followed CDC guidelines in our home- important during this time. He worked hard to get us the solution we wanted. Thank you! Highly recommend."
"Big Apple Rocks! We have had them install a disposal, Studer vent, and a Back pressure regulator to our irrigation system and the were fast, efficient, cleaned up well and were cost effective! New York hospitality at its best!"
"We had a split in our copper piping that led to our outdoor faucet. Made an online appt, it was scheduled, communicated and a new faucet was installed as per the scheduled appointment and the cost was per the special on freeze-less faucets they were running. Very professional and on time. Disraeli was professional from the start! I would recommend using Big Apple Plumbing."
"They were professional, efficient and kind. They were able to come out to identify the cause for our leak and change our garbage disposal the day after I called. Highly recommended. And I have very high standards for service!"
"I noticed in the morning that there was a leak in my bathroom ceiling. Tried investigating on my own. I was at a loss. My mother recommended calling Big Apple Plumbing. Spoke with Jason and he made an initial diagnosis. He sent an employee out to my house within the hour. Jason's diagnosis was correct and the problem was solved."

WE HAVE PARTNERED WITH WISETACK®