Boiler Installation & Repair Services
Boiler Service & Repair In Denver, Colorado
Boiler heating systems are very common in older Colorado homes and buildings. At Big Apple Plumbing & Heating, our highly trained boiler technicians have the experience and knowledge to handle any of your boiler system needs, regardless of the age of your boiler system. We specialize in boiler installation, repair, and routine maintenance to ensure your boiler is working flawlessly at all times. We will also replace your boiler when it comes time!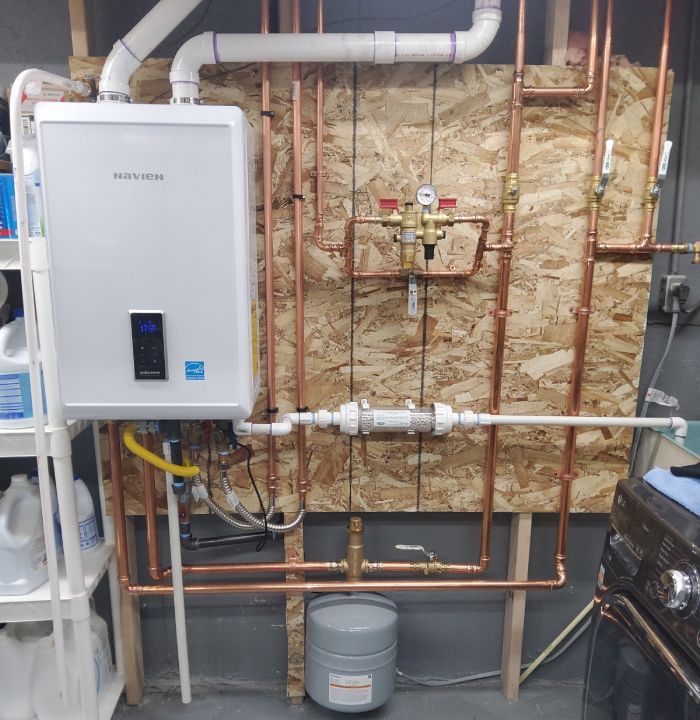 New Boiler Installation in Boulder, Colorado
Unlike furnaces, boilers use heated water instead of heated air to warm your home. Boilers are available in natural gas, propane, electric, or even steam based variations and provide an energy efficient alternative to heating your home throughout the cold winter months. When you partner with Big Apple Plumbing in Colorado for new boiler installation, we will help determine the right boiler type for your needs and follow it up with professional installation services backed by our industry leading warranties and satisfaction guarantees.
Older boiler systems often require a higher level of maintenance than newer heating technology, such as ductless systems or furnaces. Big Apple Plumbing provides expert boiler repair, installation, and routine maintenance in Denver, Colorado and Surrounding Areas. If your home or business has a boiler heating system, you can rely on our team for all boiler projects big or small!
Boiler Repairs & Replacement
In the event your boiler stops working as expected in your Colorado home, Big Apple Plumbing's boiler repair experts are here for you. We strive to arrive at your home as quickly as possible to inspect your boiler and develop a plan to return it to its working condition fast, or determine if it needs to be replaced. We have experience resolving many boiler issues including no heat or hot water, leaking or dripping, pilot light issues, frozen condenser pipe, thermostat issues, and much more. We also have experience replacing old boilers so that your home can get in working order as quickly as possible.
Besides keeping your Colorado home warm and cozy, at Big Apple Plumbing we can help you with a wide range of residential plumbing services we the excellency that distinguish our brand. We can assist you with:
If your boiler isn't working the way it used to, it needs to be replaced, or if you're interested in a pre-season tune-up, call (720) 900-1003 and speak with the boiler experts at Big Apple Plumbing today! We work on all boiler types and will help with all of your installation, maintenance, and repair needs!
"Our water heater dropped dead right in the midst of COVID. I spoke to 2 other companies and then spoke w Jason at Big Apple. He was not only able to guide me through my options, but was able to commit on the time and do it promptly. Disraeli was our expert. He was prompt, professional, and followed CDC guidelines in our home- important during this time. He worked hard to get us the solution we wanted. Thank you! Highly recommend."
"Big Apple Rocks! We have had them install a disposal, Studer vent, and a Back pressure regulator to our irrigation system and the were fast, efficient, cleaned up well and were cost effective! New York hospitality at its best!"
"We had a split in our copper piping that led to our outdoor faucet. Made an online appt, it was scheduled, communicated and a new faucet was installed as per the scheduled appointment and the cost was per the special on freeze-less faucets they were running. Very professional and on time. Disraeli was professional from the start! I would recommend using Big Apple Plumbing."
"They were professional, efficient and kind. They were able to come out to identify the cause for our leak and change our garbage disposal the day after I called. Highly recommended. And I have very high standards for service!"
"I noticed in the morning that there was a leak in my bathroom ceiling. Tried investigating on my own. I was at a loss. My mother recommended calling Big Apple Plumbing. Spoke with Jason and he made an initial diagnosis. He sent an employee out to my house within the hour. Jason's diagnosis was correct and the problem was solved."

WE HAVE PARTNERED WITH WISETACK®