Sewer Ejector Pumps Repair & Replacement
Sewer Ejector Pumps Importance
Understanding the value of sewer ejector pumps is of utmost importance for every homeowner. It is not simply an indulgence but a necessary requirement to effectively and hygienically dispose of waste in homes. It is where plumbing fixtures lie below the main sewer or septic tank lines or tanks. Sewer ejector pumps not only prevent backflows, but they can protect homes against flooding. At the same time, they shield their living environments against harmful bacteria that would otherwise invade.
Being equipped with an effective and dependable sewer ejector pump is vital. Therefore it's equally crucial that it stays in top-notch condition. Sewer ejector pumps are essential in safeguarding the health and well-being of any home. You will need professional support for the sewer ejector pump repair and replacement services.
Big Apple Plumbing is a prominent brand in providing effective sewer ejector pump-related services. Experience and dedication to customer satisfaction have established Big Apple Plumbing as an industry expert. Their highly trained professionals can handle any issue related to sewer ejector pumps and ensure smooth and efficient functioning. With them at your side, rest easy knowing your pump is safe.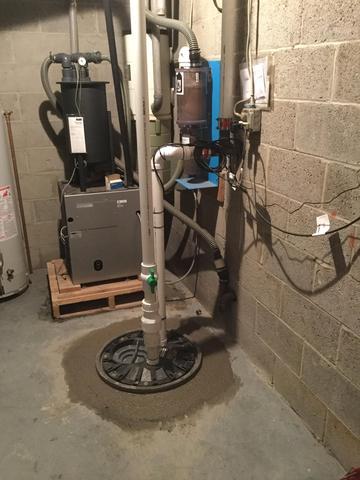 High Time To Get Sewer Ejector Pump Services
Several reasons are behind the need for ejector pump repair and replacement requirements. The following are some significant ones:
Some benefits after you get the expert sewer ejector pump services from experts:
Are you experiencing signs showing that your sewer ejector pump is damaged? If yes, you need immediate help to correct it correctly. Big Apple Plumbing is a trusted company to offer you the best sewer ejector pump repair and replacement. Hurry Up and contact us now.
Big Apple Plumbing is available to help you with the best sewer issue at your place anytime!
Minimize The Sewer Ejector Pump Replacement Requirement
Regular cleaning and inspection maintenance can reduce the need for sewer ejector pump replacement. By only permitting water and human waste into the system, blockages and damage to your pump should be prevented, increasing its lifespan while prolonging its usefulness.
Access to professional assistance quickly in cases of issues can prevent full replacement from being necessary!
How Big Apple Plumbing Can Help You With Sewer Ejector Pump Facilities
Big Apple Plumbing provides comprehensive sewer ejector pump services, including repair and replacement, to help ensure your facilities run efficiently. Our knowledgeable team can quickly detect and address pump-related problems to reduce downtime while protecting against future potential issues for an enjoyable work experience.
Big Apple Plumbing Offers The Exceptional Sewer Ejector Pump Installation, Repair, and Replacement
Sewer Ejector Pump Installation:
Setting up a sewer ejector pump involves carefully positioning it at the lowest point in your basement or crawl space after creating a sump pit. Then connect its power cord to a GFCI outlet, then route its discharge pipe out from under your building.
Sewer Ejector Pump Repair:
Repairing sewer pumps may involve diagnosing issues like clogs, power outages, or mechanical faults. Treating those issues involves repairing by unclogging impellers, resetting float switches, or restoring power by resetting circuit breakers.
Sewer Ejector Pump Replacement:
When an older or malfunctioning sewer ejector pump needs to be upgraded or replaced entirely, replacement becomes essential. Drain your sump pit before replacement to install the new one properly and reconnect it to its power source and discharge pipe.
To offer you the desired services, we are:
As one of the premier providers of sewer ejector pump repair and replacement services, our teams have consistently set industry benchmarks of excellence. We understand the significance of an efficient sewer ejector pump system and use cutting-edge tools and technology to ensure it stays that way.
We stay up-to-date on industry advancements to provide innovative solutions to any problems which may arise. Our routine maintenance services keep your sewer ejector pump system functioning at peak condition and efficient. Big Apple Plumbing fix issues with guaranteed results!
Big Apple Plumbing is available near you to provide exceptional sewer ejector pump repair and replacement services. Call us anytime, and we will listen to your issue and deliver the best solution!
Call Big Apple Plumbing For sewer repair Westminster and other Colorado areas at 
(720) 900-1003
We'll be there the same day for emergency sewer service, and we won't charge extra!
Sewer Ejector Pumps Replacement
"Our water heater dropped dead right in the midst of COVID. I spoke to 2 other companies and then spoke w Jason at Big Apple. He was not only able to guide me through my options, but was able to commit on the time and do it promptly. Disraeli was our expert. He was prompt, professional, and followed CDC guidelines in our home- important during this time. He worked hard to get us the solution we wanted. Thank you! Highly recommend."
"Big Apple Rocks! We have had them install a disposal, Studer vent, and a Back pressure regulator to our irrigation system and the were fast, efficient, cleaned up well and were cost effective! New York hospitality at its best!"
"We had a split in our copper piping that led to our outdoor faucet. Made an online appt, it was scheduled, communicated and a new faucet was installed as per the scheduled appointment and the cost was per the special on freeze-less faucets they were running. Very professional and on time. Disraeli was professional from the start! I would recommend using Big Apple Plumbing."
"They were professional, efficient and kind. They were able to come out to identify the cause for our leak and change our garbage disposal the day after I called. Highly recommended. And I have very high standards for service!"
"I noticed in the morning that there was a leak in my bathroom ceiling. Tried investigating on my own. I was at a loss. My mother recommended calling Big Apple Plumbing. Spoke with Jason and he made an initial diagnosis. He sent an employee out to my house within the hour. Jason's diagnosis was correct and the problem was solved."

WE HAVE PARTNERED WITH WISETACK®