Tankless Water Heater Services in Westminster
Install High-Quality Tankless Water Heater From Big Apple Plumbing
Tankless Water Heater Installation Services In Colorado!
If you're looking for a way to reclaim space in your garage or basement, a tankless water heater may be the best option for you. This innovative plumbing technology not only reclaims valuable square footage but also proves cost-effective by reducing your monthly water bill. We are a Plumbing Company in Westminster CO eager to assist residential clients across town and surround Colorado areas. 
3 Advantages of a Tankless Water Heater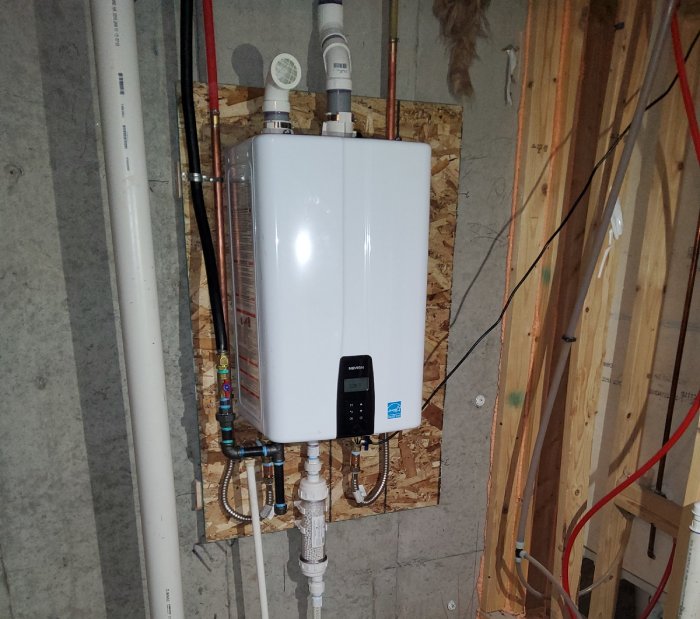 When to Consider Replacement
A tankless water heater is an essential requirement for every home in Westinster CO. It's crucial to be aware of the signs indicating a malfunctioning to prevent running out of hot water. Below are some indications that it may be time to consider replacement:
Inconsistent hot water supply
Rising energy bills despite normal usage
Frequent breakdowns or repairs
Signs of Leakage
Uncommon Noises
By paying attention to these signs, you can make an informed decision about when it's appropriate to replace your tankless water heater. Seeking professional assistance from trusted plumbing experts can further guide you in selecting a new unit that meets your specific needs while ensuring a consistent supply of hot water for your household.
Our Tankless Water Heater Warranty
We work exclusively with Navien, a renowned manufacturer of tankless water heaters, ensuring top-notch quality and reliability. Navien tankless water heaters come with an impressive 15-year manufacturer warranty, demonstrating their confidence in the durability and performance of their products. At Big Apple Plumbing, we go the extra mile to provide our customers with added assurance and peace of mind.
In addition to the manufacturer warranty, we offer a comprehensive 1-year labor warranty and 1-year part warranty on all the components supplied by us. This warranty covers any labor-related issues and ensures that if any parts installed by us encounter defects or malfunctions within the first year, we will promptly replace them at no additional cost to you.
Rest assured that when you choose Big Apple Plumbing for your tankless water heater installation, the work will be executed in strict adherence to the current plumbing code. Our experienced professionals are well-versed in the regulations and standards set forth by local authorities, ensuring that your installation meets all necessary requirements. You can trust us to handle your installation with utmost professionalism and in compliance with industry best practices.
Our residential plumbing services in Westminster and surround Colorado areas includes:
Tankless Water Heater Services
"Our water heater dropped dead right in the midst of COVID. I spoke to 2 other companies and then spoke w Jason at Big Apple. He was not only able to guide me through my options, but was able to commit on the time and do it promptly. Disraeli was our expert. He was prompt, professional, and followed CDC guidelines in our home- important during this time. He worked hard to get us the solution we wanted. Thank you! Highly recommend."
"Big Apple Rocks! We have had them install a disposal, Studer vent, and a Back pressure regulator to our irrigation system and the were fast, efficient, cleaned up well and were cost effective! New York hospitality at its best!"
"We had a split in our copper piping that led to our outdoor faucet. Made an online appt, it was scheduled, communicated and a new faucet was installed as per the scheduled appointment and the cost was per the special on freeze-less faucets they were running. Very professional and on time. Disraeli was professional from the start! I would recommend using Big Apple Plumbing."
"They were professional, efficient and kind. They were able to come out to identify the cause for our leak and change our garbage disposal the day after I called. Highly recommended. And I have very high standards for service!"
"I noticed in the morning that there was a leak in my bathroom ceiling. Tried investigating on my own. I was at a loss. My mother recommended calling Big Apple Plumbing. Spoke with Jason and he made an initial diagnosis. He sent an employee out to my house within the hour. Jason's diagnosis was correct and the problem was solved."

WE HAVE PARTNERED WITH WISETACK®