Water Gate Valve Repair Services
Main Water Shutoff Valve Repair Services In Colorado
If you have a plumbing emergency, or if you decide to do some plumbing maintenance yourself, knowing how to shut off the water supply can be critical to a successful outcome.
All water that is piped into your home from an outside source arrives at what is known as the main shutoff valve. The water main shutoff valve is generally located in the basement or on an exterior wall in the utility area of your home. It is the valve that is used to shut off the supply of water in your house. Find it and clearly label it so that other members of your household can easily identify it. 
Call Big Apple Plumbing at (720) 900-1003 for professional water gate valve repair or maintenance services in Westminster and other areas of Colorado. Then see if you can turn the valve off. (Most shutoff valves require a turn to the right to stop the flow of water.)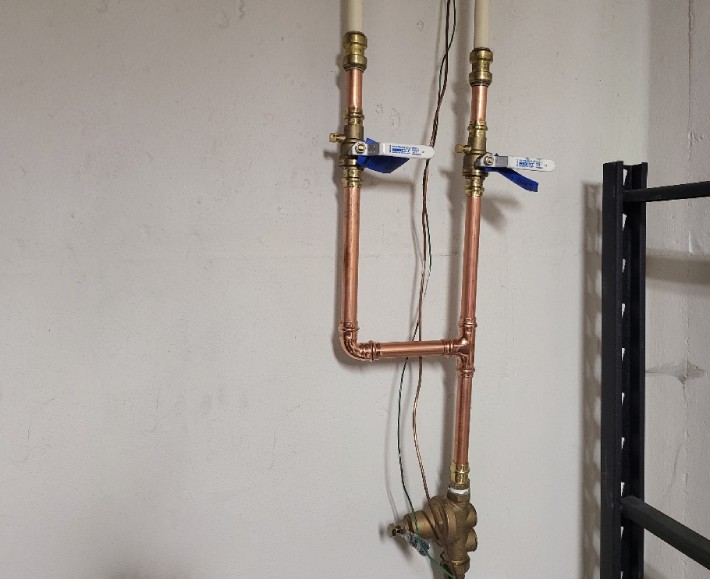 Types of Main Shutoff Valves
Gate valves are commonly found in older construction, nowadays these are against plumbing code and not allowed to be installed. Newer houses or plumbing with copper or plastic main water pipes generally use ball valves instead. If an opportunity arises to replace your existing gate-style shutoff valve, consider switching to the more reliable and easier-to-use ball valve.
Auxiliary Water Main Shutoff Valves
Water flows through the main shutoff valve to the pipes that supply various plumbing mechanisms in your home. Typically, the major water pipes (your exterior faucets, your washing machine, your kitchen sink and dishwasher, and your bathroom plumbing) feature an auxiliary shutoff valve, which means you can stop the flow of water to individual fixtures or specific areas of your house during a repair or emergency and still supply water to the rest of your home. Again, find these valves and label them. Auxiliary shutoff valves are generally located close to the fixture that the water pipe serves—under your sinks, beneath your toilet tanks, and near your washing machine.
Water Gate Valve Repair and Maintenance
First, don't wait for an emergency or a needed water gate valve repair. Take a few minutes to test all your shutoff valves to ensure they are not frozen in the open position. If they are frozen, don't exert extreme force to try to open them. It may be time to call your plumber.
No matter how big or small the problem may see, at Big Apple Plumbing we are committed to deliver top customer service and plumbing jobs that last. We can assist you with a wide range of plumbing issues such as:
If you've tried these maintenance tips and still need water main shutoff valve repair services, please call Big Apple Plumbing at   
(720) 900-1003
 for plumbing repair in Westminster.
Water Main Valve Replacement
"Our water heater dropped dead right in the midst of COVID. I spoke to 2 other companies and then spoke w Jason at Big Apple. He was not only able to guide me through my options, but was able to commit on the time and do it promptly. Disraeli was our expert. He was prompt, professional, and followed CDC guidelines in our home- important during this time. He worked hard to get us the solution we wanted. Thank you! Highly recommend."
"Big Apple Rocks! We have had them install a disposal, Studer vent, and a Back pressure regulator to our irrigation system and the were fast, efficient, cleaned up well and were cost effective! New York hospitality at its best!"
"We had a split in our copper piping that led to our outdoor faucet. Made an online appt, it was scheduled, communicated and a new faucet was installed as per the scheduled appointment and the cost was per the special on freeze-less faucets they were running. Very professional and on time. Disraeli was professional from the start! I would recommend using Big Apple Plumbing."
"They were professional, efficient and kind. They were able to come out to identify the cause for our leak and change our garbage disposal the day after I called. Highly recommended. And I have very high standards for service!"
"I noticed in the morning that there was a leak in my bathroom ceiling. Tried investigating on my own. I was at a loss. My mother recommended calling Big Apple Plumbing. Spoke with Jason and he made an initial diagnosis. He sent an employee out to my house within the hour. Jason's diagnosis was correct and the problem was solved."

WE HAVE PARTNERED WITH WISETACK®