Garbage Disposal Services
Install High-Quality Garbage Disposals
It's easy to forget about your garbage disposal until it stops working! If you have loud noises coming from your kitchen sink or a garbage disposal that has suddenly stopped working, don't reach into your sink. Reach your phone and call Big Apple Plumbing for garbage disposal services in Denver, Westminster, Arvada, Boulder, Eire, Thornton, and throughout the Colorado area!
Garbage disposals are designed and built to be durable. That doesn't make them immune to wear and tear, however. It also doesn't mean they can handle anything put down a kitchen sink. No matter when or why garbage disposals stop working correctly, Big Apple Plumbing can: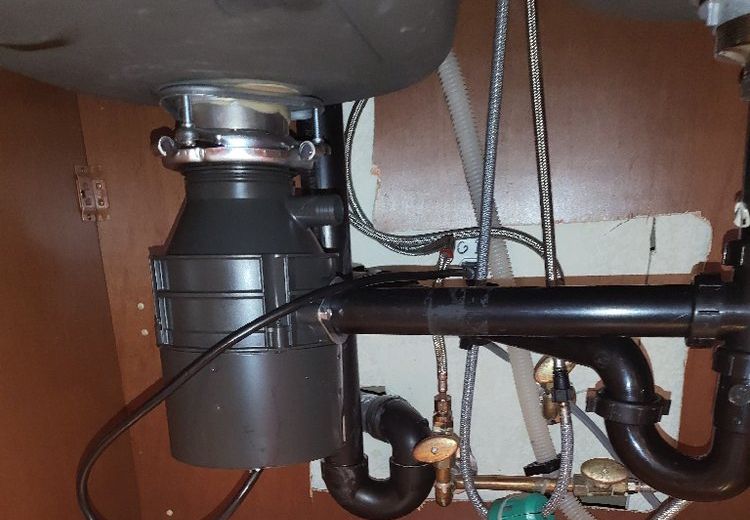 If we discover that garbage disposal repairs won't provide the lasting solution you need, we'll let you know that it's time for garbage disposal replacement so that you can make the best decision and investment for your home.
Garbage Disposal Replacement & Installation Services
Whenever you're ready to install a new garbage disposal, our experienced plumbers can help you with everything necessary to get your new unit up and running. That means you can rely on us for help:
Garbage Disposal Maintenance Tips: What to Avoid Putting Down Your Disposal
Although it may seem like your garbage disposal can "eat" anything, even the best units can get indigestion from time to time! To keep your garbage disposal in peak condition for as long as possible, practice some easy DIY maintenance tips by never putting these items down your unit:
Another good rule of thumb when it comes to garbage disposal maintenance is this: Whenever in doubt, throw it out (in the garbage can)!
Is it too late for garbage disposal maintenance? Do you have a broken garbage disposal? No problem—Big Apple Plumbing is here, ready to help!
Call
(720) 900-1003
or
contact
Big Apple Plumbing online to schedule a garbage disposal service in one of our service areas.
How to Troubleshoot Minor Garbage Disposal Clogs: 3 Helpful Tips
Not every garbage disposal jam requires a call to the plumber! If your disposal stops working, here are a few things you can try before you pick up the phone:
If you still can't get your disposal to work—or if you'd rather leave the troubleshooting to a pro, just call Big Apple Plumbing! We'll be out that day to fix your garbage disposal ASAP.
Schedule a Garbage Disposal Service in Colorado
For top-rated garbage disposal services from a trusted local plumbing company, contact
Big Apple Plumbing
. We will schedule your garbage disposal service at a time that's convenient for you, and we'll come with a fully stocked truck, ready to provide the service and solutions you need!
When you choose Big Apple Plumbing for garbage disposal services, you can always expect: 
Big Apple Plumbing can help you with your kitchen appliances and plumbing features. You can contact us for assistance with:
To schedule a garbage disposal repair "near me" simply call Big Apple Plumbing at 
(720) 900-1003
 or 
contact us
online now. We offer same-day garbage disposal services at no extra cost!
Garbage Disposal Installation
"Our water heater dropped dead right in the midst of COVID. I spoke to 2 other companies and then spoke w Jason at Big Apple. He was not only able to guide me through my options, but was able to commit on the time and do it promptly. Disraeli was our expert. He was prompt, professional, and followed CDC guidelines in our home- important during this time. He worked hard to get us the solution we wanted. Thank you! Highly recommend."
"Big Apple Rocks! We have had them install a disposal, Studer vent, and a Back pressure regulator to our irrigation system and the were fast, efficient, cleaned up well and were cost effective! New York hospitality at its best!"
"We had a split in our copper piping that led to our outdoor faucet. Made an online appt, it was scheduled, communicated and a new faucet was installed as per the scheduled appointment and the cost was per the special on freeze-less faucets they were running. Very professional and on time. Disraeli was professional from the start! I would recommend using Big Apple Plumbing."
"They were professional, efficient and kind. They were able to come out to identify the cause for our leak and change our garbage disposal the day after I called. Highly recommended. And I have very high standards for service!"
"I noticed in the morning that there was a leak in my bathroom ceiling. Tried investigating on my own. I was at a loss. My mother recommended calling Big Apple Plumbing. Spoke with Jason and he made an initial diagnosis. He sent an employee out to my house within the hour. Jason's diagnosis was correct and the problem was solved."

WE HAVE PARTNERED WITH WISETACK®