Sprinkler Backflow Preventer
Sprinkler Backflow Preventer Services
Protect Your Water Supply with Reliable Sprinkler Backflow Preventers!
Have you ever considered the potential hazards lurking in your home's plumbing system? It may not be something we think about often. But the importance of protecting our water supply cannot be overstated. 
Sprinkler Backflow Preventer by Big Apple Plumbing defends your main water supply from potential contaminants. These are known by a few different names, like vacuum breakers or pressure vacuum breakers, for effective plumbing protection. The Sprinkler Backflow Preventer is a specific type that focuses on safeguarding your irrigation system. By installing it, you can ensure that water flows out to your sprinklers. Also, check water outlets don't pose a threat to the main water supply.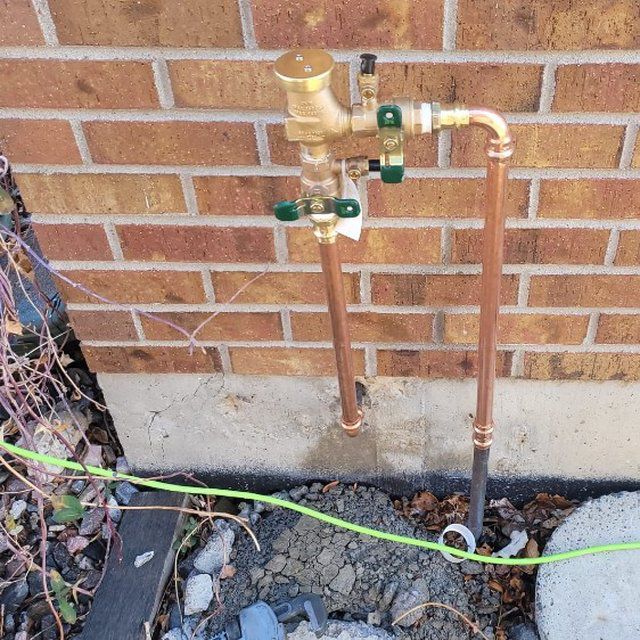 How Does A Sprinkler Backflow Preventer Work?
One key challenge in maintaining clean water supplies is the potential for backflow. A situation where water flows in the opposite direction within a plumbing system creates a contamination risk.
Backflow can occur due to changes in pressure or cross-connections with non-potable water sources, posing a serious threat to public health. Sprinkler backflow preventers play a crucial role in protecting water systems.
By understanding how it works, we can maintain the cleanliness of our water supply. Let's check how sprinkler backflow preventer work:
Inlet Connection
The backflow preventer is installed where the irrigation system connects to the main water supply. It is typically located underground or in a valve box to protect it from environmental elements. The inlet side of the backflow preventer is connected to the main water supply line.

Check Valves
The backflow preventer has two check valves: a primary check valve and a secondary check valve. These valves allow water to flow in only one direction. The primary check valve is located closest to the inlet connection. On the other hand, the secondary check valve is located downstream of the primary valve.
Pressure Differential
When the irrigation system is turned on, water flows from the main supply into the backflow preventer. The pressure of the incoming water pushes against the primary check valve. It opens the backflow preventer and allows water to enter the irrigation system. Simultaneously, the pressure on the secondary check valve keeps it closed, preventing any water from flowing backwards.
Normal Operation
During normal operation, water flows through the open primary check valve and continues moving into the irrigation system. The primary check valve remains open due to the pressure differential the water supply creates. Meanwhile, the secondary check valve remains closed due to the opposing pressure from the irrigation system.
Backflow Event
A sudden drop in water pressure in the main supply line or a backflow event may occur. A few examples are a water main break or a drop in water pressure due to firefighting activities. In such a scenario, the pressure in the irrigation system may exceed the pressure in the main water supply. This pressure reversal would normally cause water to flow backwards, potentially contaminating the potable water.
Backflow Prevention
In backflow, the pressure reversal causes the primary check valve to close. It prevents backward water flow into the main supply line. Simultaneously, the pressure created in the irrigation system pushes against the closed primary check valve. It opens the secondary check valve. It will allow the excess pressure to be released into the atmosphere. As a result, it prevents contamination of the main water supply.
Sprinkler System Backflow Valve Repairs and Maintenance
Big Apple Plumbing Sprinkler Backflow Preventer Facility Includes:
What is the reason behind Backflow?
Backflow occurs when water follows the natural path of moving from an area of high pressure to an area of low pressure. Back-siphonage can happen due to some reasons:
Besides, the improper installation of a sprinkler system can also lead to backflow due to excessive back pressure from the pump. It is not the situation that you want at your place. So, get and install a good quality sprinkler backflow preventer by Big Apple Plumbing!
Call Big Apple Plumbing at (720) 900-1003 to get in touch with our team and learn all about how we can help you!
Sprinkler Backflow Preventer
"Our water heater dropped dead right in the midst of COVID. I spoke to 2 other companies and then spoke w Jason at Big Apple. He was not only able to guide me through my options, but was able to commit on the time and do it promptly. Disraeli was our expert. He was prompt, professional, and followed CDC guidelines in our home- important during this time. He worked hard to get us the solution we wanted. Thank you! Highly recommend."
"Big Apple Rocks! We have had them install a disposal, Studer vent, and a Back pressure regulator to our irrigation system and the were fast, efficient, cleaned up well and were cost effective! New York hospitality at its best!"
"We had a split in our copper piping that led to our outdoor faucet. Made an online appt, it was scheduled, communicated and a new faucet was installed as per the scheduled appointment and the cost was per the special on freeze-less faucets they were running. Very professional and on time. Disraeli was professional from the start! I would recommend using Big Apple Plumbing."
"They were professional, efficient and kind. They were able to come out to identify the cause for our leak and change our garbage disposal the day after I called. Highly recommended. And I have very high standards for service!"
"I noticed in the morning that there was a leak in my bathroom ceiling. Tried investigating on my own. I was at a loss. My mother recommended calling Big Apple Plumbing. Spoke with Jason and he made an initial diagnosis. He sent an employee out to my house within the hour. Jason's diagnosis was correct and the problem was solved."

WE HAVE PARTNERED WITH WISETACK®