Drain Line Repair Services
Call Big Apple Plumbing for a Quote for Drain Line Services in Colorado
If you need drain line services in Arvada, Boulder, and Aurora, Colorado, you will want to hire experienced plumbers to do the job right the first time. At Big Apple Plumbing, we are award-winning leaders in modern plumbing services, and the drain line services team to call. Our drain line team can handle any job requiring Colorado sewer and drain line services.
Our drain line service experts excel at using proven methods and techniques for:
Using our drain line service is easy. Just call us and request a quote for the drain services you need. Then, we'll schedule a convenient time to perform the drain line services. Big Apple Plumbing will communicate with you every step of the way, and we welcome any questions that you have about our drain cleaning process. We know that a broken or damaged sewer pipe can be a very stressful circumstance for your family in Colorado. That is why we offer convenient, quick and affordable drain line services.
Our objective is your 100-percent satisfaction with our expert drain line repair services. For major issues, our Sewer Line Repair and Replacement Westminster services can determine the best course of action for your situation. 
Do you have a blocked or clogged drain that needs immediate attention? A Big Apple Plumbing drain service technician can be on the way. Just call today. Our drain services team provides sewer and drain line repair with minimal excavation at your home. We can fix broken and leaking pipes without heavy digging. Our repairs will eliminate existing root damage, and we can replace missing sections of pipe.
How to Detect Your Home Needs Sewer Pipe Repairs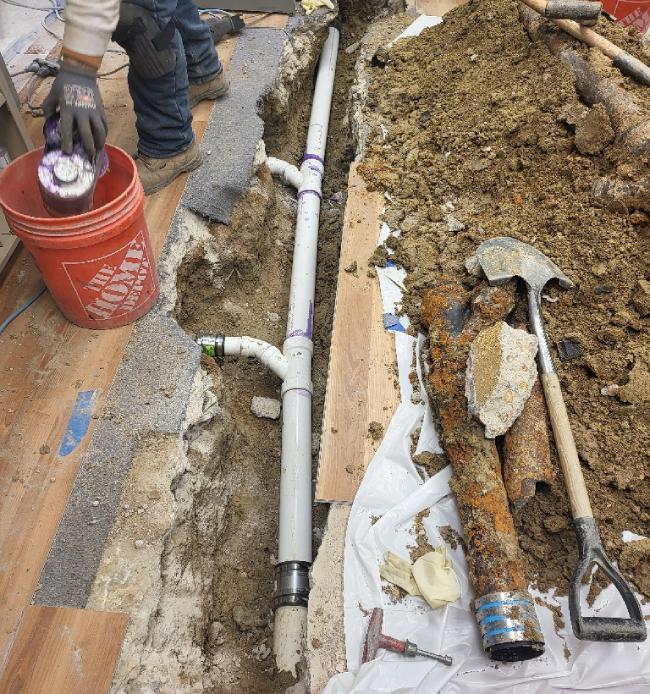 Let Us Reduce the Stress of a Clogged Drain:
At Big Apple Plumbing, we realize that plumbing problems can be stressful. Our goal is to provide the most stress-free plumbing services possible. You can be certain that our plumbers:
We know that you'll notice the dedication we have for our customers. From providing an accurate quote to completing expert drain line services, we want you to be satisfied with all our drain services.
Call us at
(720) 900-1003
for a quote on all our drain line services & plumbing repair in Westminster. We offer complete drain cleaning and repair at competitive prices.
Drain Line Repair Services
"Our water heater dropped dead right in the midst of COVID. I spoke to 2 other companies and then spoke w Jason at Big Apple. He was not only able to guide me through my options, but was able to commit on the time and do it promptly. Disraeli was our expert. He was prompt, professional, and followed CDC guidelines in our home- important during this time. He worked hard to get us the solution we wanted. Thank you! Highly recommend."
"Big Apple Rocks! We have had them install a disposal, Studer vent, and a Back pressure regulator to our irrigation system and the were fast, efficient, cleaned up well and were cost effective! New York hospitality at its best!"
"We had a split in our copper piping that led to our outdoor faucet. Made an online appt, it was scheduled, communicated and a new faucet was installed as per the scheduled appointment and the cost was per the special on freeze-less faucets they were running. Very professional and on time. Disraeli was professional from the start! I would recommend using Big Apple Plumbing."
"They were professional, efficient and kind. They were able to come out to identify the cause for our leak and change our garbage disposal the day after I called. Highly recommended. And I have very high standards for service!"
"I noticed in the morning that there was a leak in my bathroom ceiling. Tried investigating on my own. I was at a loss. My mother recommended calling Big Apple Plumbing. Spoke with Jason and he made an initial diagnosis. He sent an employee out to my house within the hour. Jason's diagnosis was correct and the problem was solved."

WE HAVE PARTNERED WITH WISETACK®