Water Heater Installation Westminster CO
Hot Water Heater Repair & Installation Services In Westminster and surrounding areas
A well-maintained, working water heater is crucial for your home. Less than stellar water heaters lead to higher energy bills and wasted energy that you end up paying for in your monthly electric bills.
There are also dangers that can cause you or loved ones serious harm if your hot water heater is not properly maintained or replaced. These can include carbon monoxide poisoning, fires, and water damage. It is important to get your water heater checked or repaired. In that case, our licensed professional can regularly save you some serious costs through cost-effective water heater service, installation and repair in Westminster, Denver, Boulder, and other Colorado areas.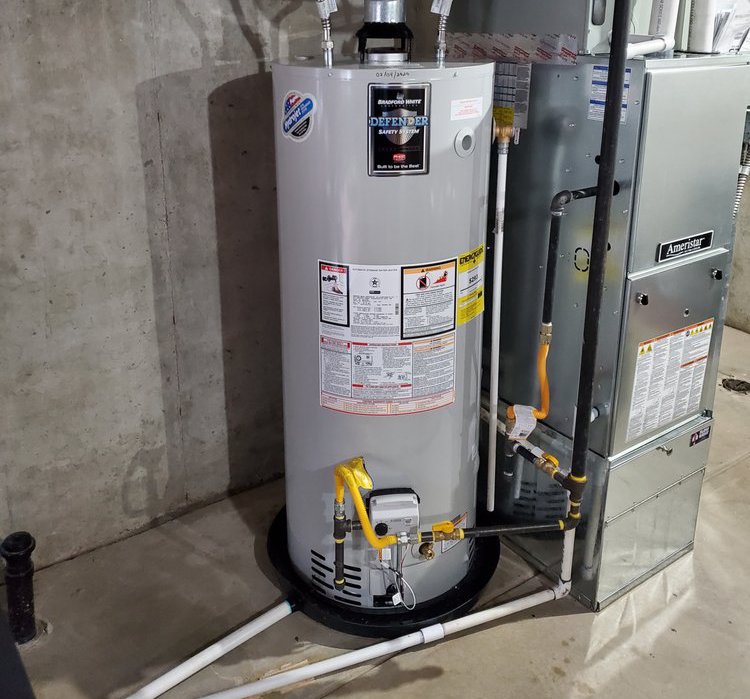 Signs on When To Replace Water Heater
Water heaters, like any other device, can break down over time. Most conventional water heaters have a lifespan of 8 to 12 years, with upkeep maintenance required every four to six years.
However, you may require water heater services, either new installation or repairs, sooner than expected due to a wide range of reasons like the age of the water heater or if the number of people in the household has suddenly go up.
If you observe any of the following problems, you may require a water heater replacement:
You are running out of hot water quicker than usual
You get in the shower, ready to take a relaxing hot shower, and within minutes, your hot water is gone and you have to get out. This is a classic sign of a failing water heater.
Brown or discolored water coming from the Hot Taps in your home
Most of us homeowners have seen it before. If murky water is coming out of the faucets of your home, it's usually a telltale sign of a water heater that needs replacement.
Having to constantly raise the temperature of your water heater.
If you are constantly having to go into your basement or garage to check that your water heater is operating properly or you have to manually raise the temperature to increase the output of warm water flowing all throughout your home, it's time to get it checked by a Westminster water heater repair professional.
Hot Water Fluctuation
your water heater should provide a stable flow of hot water. Whether is a tankless water heater or a classic water tank heater, you should not experience temperature fluctuation during the use of the water heater. This may indicate you have ither a water pressure issue or that some components of you water heater are faulty and a new water heater installation is required.
Strange noises coming from the water heaters
Again, you should not know that your water heater is functioning except for the fact that you are showering with hot water. If every time you use the water heater, a strange concert of weird noises start coming out of it, well, it might be time to get the help of a professional plumber.
Age of the water heater
Good things also come to an end and for your water heater this is no exception. After certain time (usually after 8-10 years with proper maintenance), your water heater simply won´t be as efficient as before and it will need replacement. Delaying this can bring other problems besides the inconvenience of cold showers.
Water Heater Repair
Some times, water heaters can go back to live with small fix around some of the parts that usually experience the most wear or deterioration. Here are some of the common
Pilot Light issues:
This is a common problem for a gas water heater since they operate with this system. If you are experiencing constant issues with the pilot light, it is best if you get the assistance of a licensed plumber that also works on gas lines to make sure they cover all the possible fronts of the problem.
Water Heater Leaks:
Water leaks are common among water heaters. They can be present due to corrosion in the pipes attaching the unit to the plumbing system or because of excessive pressure in the pipes. Leaks can, not only lead to water damage, but also cause later problems for your water heater like overheating (due to excessive work). The cold water inlet pipe is one of the most common places to find water heater leaks since these are the pipes connecting the unit to the plumbing system.
Pressure Release Valve Failure:
A malfunctioning pressure relief valve can cause high pressure to build up inside the tank, leading to potential safety hazards.
Faulty Installation:
Experience installing water heaters is a must. A bad installation can be the root of so many problems in the future when it comes to your water heater. Constant need of repairs when your unit is relatively new is probably a sign of bad water heater installation.
Our Tankless Water Heater Installation and Repair Westminster services guarantees that the installation process goes out smoothly and that your water heater is up to date so you do not have to deal with constant, unnecessary repairs. 
Our Water Heater Installation process. The Next Steps
Big Apple Plumbing Water Heater Warranty:
We work exclusively with the manufacturer BradFord White for water heaters installation, but we work on all tanks for repairs. These tanks come with a standard 6 year warranty on tank and parts. We also offer a 10-year warranty upgrade package!
On top of that, Big Apple Plumbing offers a 1 year labor warranty and 1 year part warranty on all parts supplied and installed by us. All water heater installations in Thornton, Broomfield,  Westminster Arvada, Denver, Boulder & other Colorado areas are done up to the current plumbing code.
Contact Big Apple Plumbing at (720) 900-1003 to speak to our team and learn more about how we can help you.
Water Heater Installation
"Our water heater dropped dead right in the midst of COVID. I spoke to 2 other companies and then spoke w Jason at Big Apple. He was not only able to guide me through my options, but was able to commit on the time and do it promptly. Disraeli was our expert. He was prompt, professional, and followed CDC guidelines in our home- important during this time. He worked hard to get us the solution we wanted. Thank you! Highly recommend."
"Big Apple Rocks! We have had them install a disposal, Studer vent, and a Back pressure regulator to our irrigation system and the were fast, efficient, cleaned up well and were cost effective! New York hospitality at its best!"
"We had a split in our copper piping that led to our outdoor faucet. Made an online appt, it was scheduled, communicated and a new faucet was installed as per the scheduled appointment and the cost was per the special on freeze-less faucets they were running. Very professional and on time. Disraeli was professional from the start! I would recommend using Big Apple Plumbing."
"They were professional, efficient and kind. They were able to come out to identify the cause for our leak and change our garbage disposal the day after I called. Highly recommended. And I have very high standards for service!"
"I noticed in the morning that there was a leak in my bathroom ceiling. Tried investigating on my own. I was at a loss. My mother recommended calling Big Apple Plumbing. Spoke with Jason and he made an initial diagnosis. He sent an employee out to my house within the hour. Jason's diagnosis was correct and the problem was solved."

WE HAVE PARTNERED WITH WISETACK®