Sewer Repair Westminster Services
Sewer Line Repair and Installation Services in Westminster, Denver, Arvada and other Colorado areas.
Homeowners are responsible for the portion of the sewer line that leads from their house and yard to the main sewer lateral under the street. This means that if your sewer system backs up for any reason, it's up to you to find a Sewer Repair Westminster Plumber, who can provide the best sewer line repairs services and mitigate damage across your sewer line sewer pipe.
A properly functioning sewer line ensures the proper disposal of wastewater and prevent the risk of water damage to your property. However, neglecting sewer repair and maintenance can lead to costly repairs and significant health hazard. Therefore, it's important to address and fix any sewer line issues as soon as possible. From full line replacement to plumbing repairs, Big Apple Plumbing guarantees a smooth sewer repair process.
If you need any Westminster sewer repair service—from drain cleaning and inspections to sewer line replacement and sewer line repair in Westminster—you've come to the right place. Big Apple Plumbing specializes in sewer pipes repairs and solutions for residential customers. With fast response times and very competitive financing, our mission is to make sure nothing stops you from dealing with sewer line damage.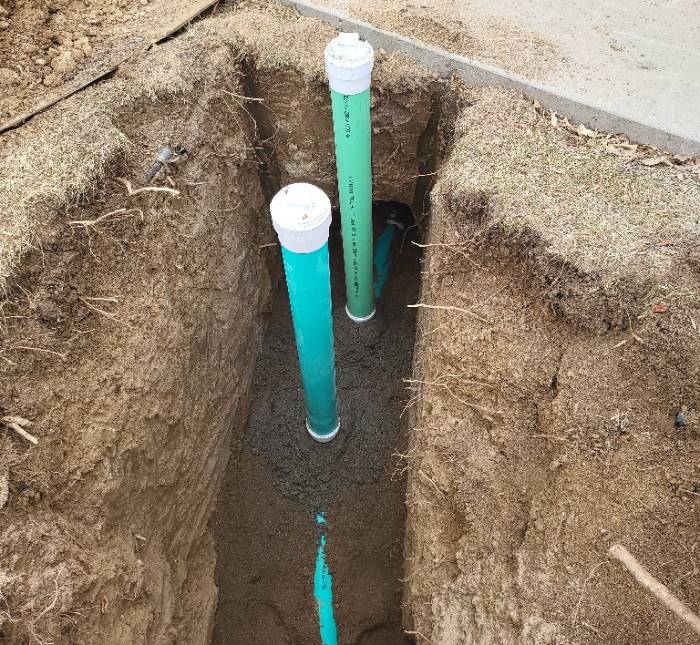 When to Call for a Sewer Repair or Replacement
Some of the most common reasons homeowners need rooter service, Westminster sewer repair or sewer line replacement, include:
Some signs you may have sewer line problems like these can include:
If you notice any of these warning signs of drain and sewer line issues, call Big Apple Plumbing ASAP for professional Westminster sewer repair services! Our certified sewer line experts are ready to help you. Fast and same day response.
Call (720) 900-1003 for emergency sewer line repair Westminster today!
Traditional Sewer Line Repair or Replacement
The traditional repair or replacement is typically performed using a backhoe to dig up the area surrounding the line, allowing easy access to the problem area. Once the repair is made, the backhoe is used to refill the area.
This option may be the only option at times, depending on the condition of your pipes, their configuration, or where you live.
What to Expect from our Westminster Sewer Repair and Replacement Services
When you contact Big Apple Plumbing for sewer line repair in Westminster, we'll match the right local plumber to your job and quickly dispatch our expert to help you with our quality sewer repair solutions.
We offer a range of sewer replacement and repair services, including
Sewer line cleaning:
Our Clogged Main Sewer Line Repair Services Westminster CO use advanced drain cleaning technology to clean out clogged sewer lines without causing any damage to the pipes.
Sewer line repair:
Our team can repair damaged sewer lines using traditional methods, including excavation and replacement of damaged pipes.
Sewer line replacement:
If your sewer line is beyond repair, our team can replace the entire line with minimal disruption to your property. For homeowners it is always a worry the cost of sewer line damage repair. We make sure to complete the job with fair and upfront prices.
Our trusted local plumbers have the expertise and state-of-the-art tools to diagnose and repair any sewer line problem. Whether you need sewer line repair in Westminster or it's time for sewer line replacement, we'll get the job done efficiently and correctly the first time!
When you're looking for first-class tankless sewer line service from expert plumbers, you're looking for Big Apple Plumbing! From video camera sewer inspections to trenchless sewer line repairs and pipe bursting, we're the team you can count on for top-notch service and solutions.
Call Big Apple Plumbing For sewer repair Westminster and other Colorado areas at 
(720) 900-1003
We'll be there the same day for emergency sewer service, and we won't charge extra!
Sewer Line Repair Service
"Our water heater dropped dead right in the midst of COVID. I spoke to 2 other companies and then spoke w Jason at Big Apple. He was not only able to guide me through my options, but was able to commit on the time and do it promptly. Disraeli was our expert. He was prompt, professional, and followed CDC guidelines in our home- important during this time. He worked hard to get us the solution we wanted. Thank you! Highly recommend."
"Big Apple Rocks! We have had them install a disposal, Studer vent, and a Back pressure regulator to our irrigation system and the were fast, efficient, cleaned up well and were cost effective! New York hospitality at its best!"
"We had a split in our copper piping that led to our outdoor faucet. Made an online appt, it was scheduled, communicated and a new faucet was installed as per the scheduled appointment and the cost was per the special on freeze-less faucets they were running. Very professional and on time. Disraeli was professional from the start! I would recommend using Big Apple Plumbing."
"They were professional, efficient and kind. They were able to come out to identify the cause for our leak and change our garbage disposal the day after I called. Highly recommended. And I have very high standards for service!"
"I noticed in the morning that there was a leak in my bathroom ceiling. Tried investigating on my own. I was at a loss. My mother recommended calling Big Apple Plumbing. Spoke with Jason and he made an initial diagnosis. He sent an employee out to my house within the hour. Jason's diagnosis was correct and the problem was solved."

WE HAVE PARTNERED WITH WISETACK®